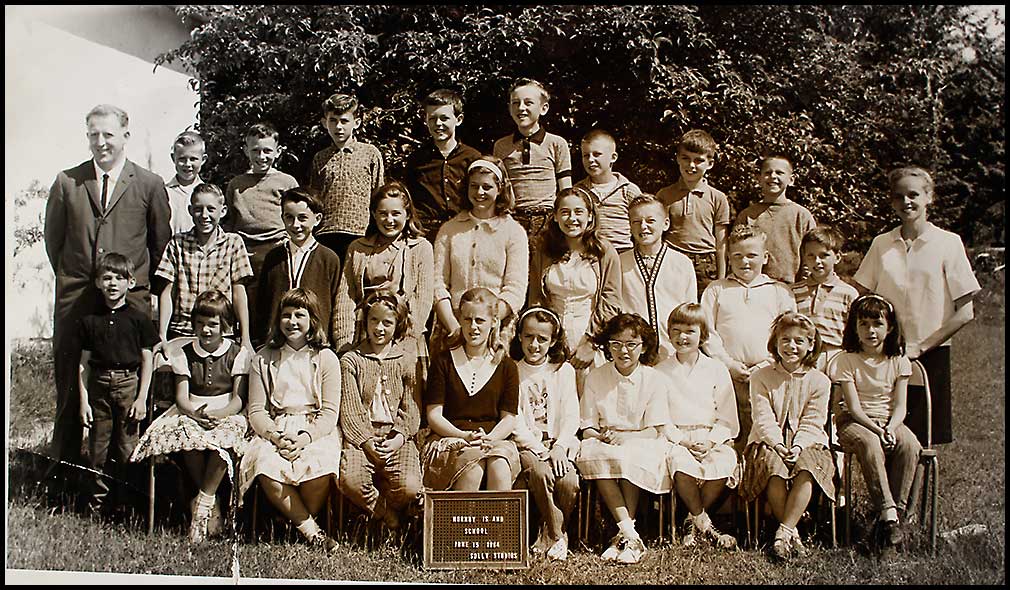 Gordon Parnell sent me this picture. Here's his note…
Bob,
i have quite enjoyed many photos of the "old" hornby island on your website–though today many photos are not appearing.
here is a school picture from 1964, along with my best guess as to their names. . .
cheers, gordon parnell
Hornby Island SchoolJune 15, 1964Front Row (left to right): Billy DePape, Pauline Bajkov, Janice Pickering, Linda Slade, Shirley Slade, Margaret Cowie, Linda Nelson, Sandy Wadland, Sydney Slade, Annie CowieMiddle Row: Mr Shields, Wesley Trimble, Joey Cowie, Sydney Thom, Joanne Fowler (Joss?), Pam Slade, Steve Wadland, Charlie Stonehouse, Ian Cameron, Mrs ShieldsBack row: Gary Trimble, Geoff Parnell, Andre Depape, Robert Joss, Terry Cameron, Melvin Danziel, Aron Thom, Gordon Parnell
Note: I am pretty sure that is Melvin Dalziel in the back row. However, he never went to school on hornby unless it was for a couple of weeks. . . .maybe i got the name wrong.
Note: this was (maybe the last year) when both school houses were in use. the seniors in the older smaller school house.
Would sure be interesting to know what happened to all these kids. . .who are now old farts, mostly.