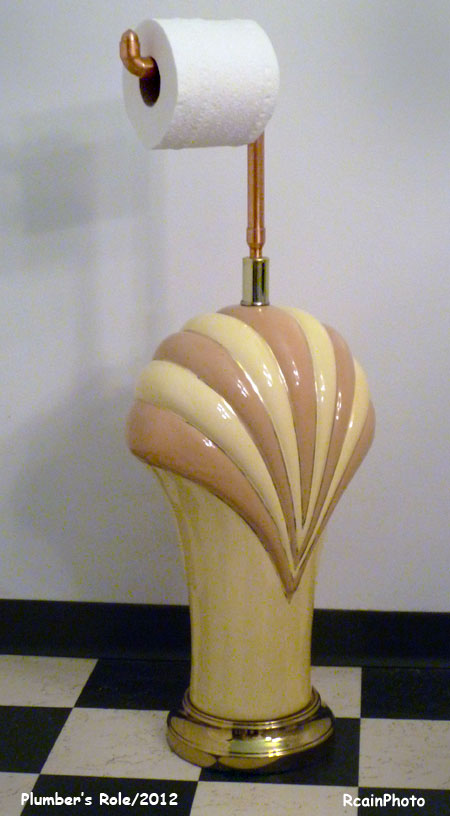 'The Role of the Plumber' a Sculpture by the Artist Richard Morritt
"It lets me play with the notion of authenticity,"  "I explore what it means to negate something or to do something non-productive"
"I'm trying to equate that interference with the idea of chance and to give that extra layer of randomness a sort of spiritual significance."
Rather than collapsing into the unified body of the spectator or deferring to that of the artist,this work demonstrates a distributed corporeality carried out through a multimedia network of production and consumption.
Mr. Morritt's syncretic work investigates ethnic and cultural identity, the effects of postcolonialism, and the processes of hybridization at work in contemporary society. With exuberance  the artist explores the ever increasing role of the plumber in society.
Combined with the work's forthright subject matter, this deliberate and simple linearity creates a subtle sense of nostalgia and moreover suggestively questions the increasingly complicated relationship between technology, images, and the culture they reflect compounding poetic juxtapositions that are at once absorbing and elusive, warmly autobiographical and coolly distant.
Such reliance on exuberant hues and minimal, if ambiguous, planar relationships might suggest naiveté; but here the charged colors invite us to find more subtle formal links among the elements of the composition. Morritt deploys stark, if not unsettling, eruptions of both hot and cold colors in a single space. The juxtaposition excites, because we cannot be certain if the cool colors are pushing the warm colors forward or vice versa—a surprising reversal of tonal convention.
Fuelled always by a 'hysteric whimsy' that productively fails to seize Morritt's mannered subject in a uniformity that might be recognizable to the self-identifying techniques routinely unquestioned by contemporary culture.  This Piece is supremely able to raise questions about the relationships between "art" and its immediate environment .