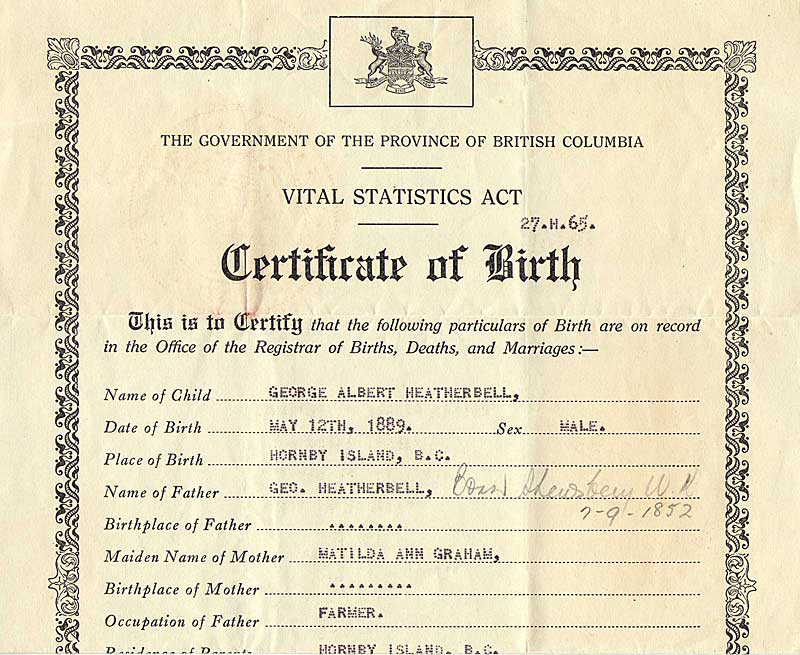 ID: I167245
Name: George Heatherbell
Sex: M
Birth: 7 SEP 1853 in Shewsbury, Shropshire, England
Death: 1943 in Richmond, Nelson, New Zealand
Reference Number: AEK-167245
Note:
Ref:
1901 Census, Comox, Vancouver Island, BC, Dist 3B, Div 1, p11, family#102, age 47(7 Sept 1853)
The following email segment was received from Margaret Farrelly, 16 Sept 2009:
Annie Matilda McFarlane died of appendicitis. She couldn't get to a doctor in time. George Heatherbell had established an orchard on Hornby Island where his children were born. He later moved the family to Esquimalt near Victoria and established another orchard there. It was while here he married Maude Adeline Monk/Pike. They were not together for very long.
I can tell you that George Heatherbell found her such a shrew that he up and sold the property in Victoria, leaving her with absolutely nothing but her two children and removed himself and his children to Tasmania (1911-12).
From there he and several of the sons came on to New Zealand (1918-19) and settled in Nelson where once again he established an orchard.